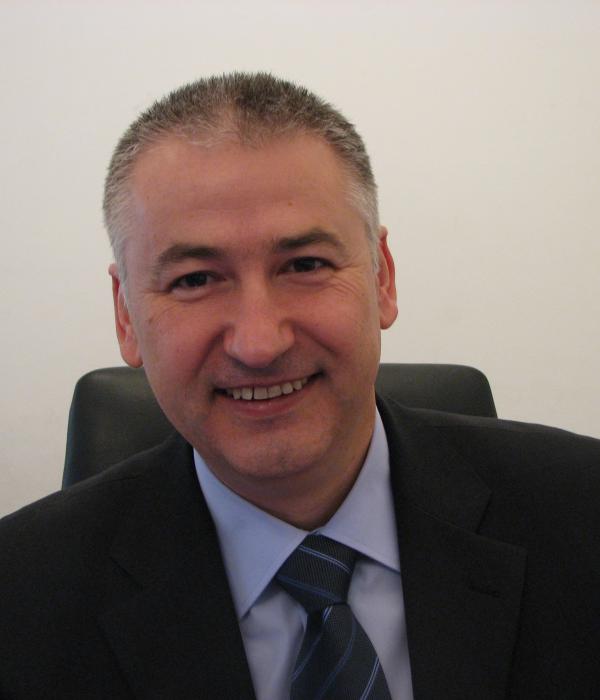 Krasimir Simonski
Deputy Chairman of the Bulgarian e-Government Agency
Krasimir Simonski is a Computer Equipment Engineer, having graduated from the Technical University of Sofia. He is a Doctor of Sciences with the Bulgarian Academy of Sciences, his thesis being "VoIP within Computer Networks".
In the period 1991 until 2002 he was a Computer and Communications Director with the American University of Blagoevgrad, whereas since 2000 he has been Manager of Regional Cisco Networking Academy, and a trainer in Information and Communication Technologies.
Krasimir Simonski worked on several projects related to IT training and development of ICT skills with AUB in Blagoevgrad, United Nations Development Program (UNDP 2006-2008), including an iGovernment project, under which over 65 thousand employees of state institutions received basic computer skills training. In the period 2004-2007, he managed the "Telecentres" project of UNDP and the State Agency for Information Technology and Communications. As many as 120 telecentres have since been established across the country under that project.
Since 2007 he has been a Head and a Coordinator of the Bulgarian project teams of the European Commission, among which were those concerning the elaboration of national development programs of broadband Internet access in Europe and GEANT2, GN3 - the largest-scale project under the Seventh Framework Program for Establishing a Research Infrastructure in Europe.
From September 2007, until October 2009 he was a Deputy Chairperson to the Information Technology and Communications State Agency, being in charge of the "Information Technology" Department.
Krasimir Simonski has also worked as a free-lanced consultant since 2009. He has participated in a number of international projects in the field of information and communication technologies, online technologies, electronic education and dissemination of broadband internet access across the Balkan and the CEE countries.
Since April 2012 he has become a PM under a project for "Development of high-speed broadband access in Bulgaria through setting up critical, secure, safe and reliable public ICT Infrastructure" of the Executive Agency "Electronic communication networks and information systems" (EA ECNIS).
Krasimir Simonski was CEO of Executive Agency "Electronic communication networks and information systems" (EA ECNIS) since the beginning of 2013 until appointed Deputy Chairperson to the newly established SEGA.