Hotel Accommodation
Rooms have been reserved at various hotels in Brussels at special rates for delegates on a first-come-first-served basis. Please plan your trip early as demand for hotel rooms in Brussels is high in October. While all the hotels are well located for conference events as well as sightseeing in central Brussels, we would recommend The Hotel, Renaissance and Radisson RED as the most conveniently located hotels for the closed and public session venues.
Quick links: View Hotels - Practical Information
Points to note
All room rates are inclusive of VAT and breakfast.
All room rates are subject to a city tax which are applicable per room per night.
Reservation is on a first-come-first-served basis and subject to room availability.
Early check-in and/or late check-out is subject to availability and additional charges will apply. Please confirm with your hotel directly.
Please take into consideration any difference in time zone depending on where you are travelling from and check your arrival date in Brussels against your hotel booking.
Please check the booking terms as listed in the hotel booking links or forms carefully.
Room type
No. of rooms
Rate excl. city tax(+ 4.24€) and incl. breakfast
21 oct
22 oct
23 oct
24 oct
25 oct
Booking info

European Parliament : 10 min. / 5 min.

Palais d'Egmont : 30 min. / 10 min.

Classic Rooms
50
89€
169€
Booking info

European Parliament : 30 min. / 20 min.

Palais d'Egmont : 30 min. / 15 min.

Classic Rooms
75
109€
140€
Booking info

European Parliament : 25 min. / 15 min.

Palais d'Egmont : 15 min. / 5 min.

Classic Rooms
18
130€
Junior Suites
2
270€
Booking info

European Parliament : 25 min. / 15 min.

Palais d'Egmont : 15 min. / 5 min.

Patio Standard Rooms
8
145.76€
Garden Standard Rooms
5
170€
Classic Junior Suites
4
200€
Booking info

European Parliament : 10 min. / 5 min.

Palais d'Egmont : 20 min. / 10 min.

Classic Rooms
40
160€
Booking info

European Parliament : 10 min. / 10 min.

Palais d'Egmont : 15 min. / 10 min.

Classic Rooms
100
175€
Booking info

European Parliament : 20 min. / 10 min.

Palais d'Egmont : 10 min. / 5 min.

Classic Rooms
40
190€
Luxury Rooms
20
240€
Junior Suites
6
360€
Booking info

European Parliament : 15 min. / 10 min.

Palais d'Egmont : 15 min. / 10 min.

Classic Rooms
30
130€
200€
220€
200€
Booking info

European Parliament : 20 min. / 10 min.

Palais d'Egmont : 5 min. / 10 min.

Classic Rooms
100
195€
220€
210€
Booking info

European Parliament : 35 min. / 20 min.

Palais d'Egmont : 30 min. / 15 min.

Classic Rooms
100
110€
130€
165€
Booking info

European Parliament : 10 min. / 10 min.

Palais d'Egmont : 25 min. / 15 min.

Classic Rooms
40
120€
170€
190€
165€
Getting here
Brussels is located within a few hours' travel of most European cities while providing a convenient midpoint between east and west for arrivals from Asia and the Americas. Due to the country's central location, Brussels' transport infrastructure is highly developed and the city is easily accessible by air, train, bus, car and even by ferry at affordable fares.
Visa Requirements for non-EU citizens
If you are a non-EU national travelling to Belgium, you will need a passport which is:
valid for at least 3 months after the date you leave; and
was issued within the previous 10 years.
You may also need a short-stay visa (up to 90 days). Check if you need a visa at the Belgian embassy or consulate in your country.
Belgium is a signatory to the Schengen agreement. In general this means that if you have a visa for a country within the Schengen area, you may travel to other countries within Schengen as well. If you have a valid residence permit from one of those Schengen countries, it is the equivalent to a visa.
Visa Requirements for EU citizens
If you are an EU national or a national of Iceland, Liechtenstein or Norway, you do not need to show your national ID card or passport when you are travelling from one border-free Schengen EU country to another.
Even if you don't need a passport for border checks within the Schengen area, it is nevertheless highly recommended to always carry your passport or ID card with you as proof of your identity if needed for example on request by the police or airport authorities.
When travelling to or from a non-Schengen country you must show a valid ID or passport. Click here for more information.
To and from the airport
Brussels is served by two airports. The main airport, Brussels-National Airport or Zaventem, is located about 20 km from the centre. A second airport, Brussels South Charleroi, is mainly served by low cost airlines (mostly from European destinations) and is located about 50 km outside of Brussels.
Brussels-National Airport (Zaventem) is connected to the city centre by a direct train which takes around 20 minutes to Brussels-Central station. Taxis are charged by meter and will cost around € 45 to the city centre. The STIB bus (lines 12 and 21) also allow easy access to the capital.
www.brusselsairport.be
Brussels South Charleroi Airport is connected to the city by the Brussels City Shuttle, with departures every 30 minutes and a journey time of 55 minutes.
www.charleroi-airport.com
Travelling around Brussels
Brussels is served by several public transport companies. The STIB serves the Brussels region with buses, trams and metros while the SNCB provides train connections across Belgium.
Click here for more information about public transport.
Taxis are also widely available in the centre of Brussels and are charged by meter at a fixed rate.
Language
Brussels is officially a bilingual city (Dutch and French) and being an international hub, most people also speak good English. Delegates arriving from different countries and speaking different languages will have a good chance of being able to interact with locals and navigate their way around.
Opening hours
In general, office hours are from 9am to 5pm on weekdays and in some cases on Saturdays from 9am to 1pm.
Major banks are usually open from 9am to 4pm/5pm Monday to Friday and closed at weekends (some also close for lunch). Opening hours may vary at different branches.
Generally, shops and department stores open daily from 10am to 6pm Monday to Saturday. Most shops are closed on Sundays although there are exceptions.
Supermarket opening hours vary with most large stores closed on Sundays. Smaller convenience stores are often open later and some open on Sundays.
Time Zone
Local Belgium time is one (1) hour ahead of Greenwich Mean Time (GMT +1).
Weather
The temperate climate in Belgium is characterised by relatively cool, wet summers and relatively mild, rainy winters. The weather in October can be unpredictable, so do check the forecast when deciding what to pack. You can check the daily weather forecasts while you are in Belgium here: www.meteo.be
Healthcare and Emergencies
112 is the Europe-wide emergency number and you can dial it anytime of the day or night, free of charge from fixed and mobile phones, should you need to speak to the emergency services – police, ambulance or fire brigade.
Otherwise in Belgium you can dial 101 for the police or 100 for fire and ambulance services. Both of these numbers are free 24 hours a day from a landline, a public telephone or a mobile phone.
For more Belgium specific emergency contact numbers, click here.
Tap water in Brussels is safe to drink, although some people choose to drink filtered or bottled water due to the taste of the hard water.
While Belgium is a relatively low risk country for diseases, you are advised to visit your health professional at least 4 to 6 weeks before your trip to be up to date with vaccinations such as tetanus.
For more information, click here.
The Belgian healthcare system is one of the best in Europe and treatment is fast and accessible. English is spoken by most public and private sector medical professionals.
If you are a European citizen, you can access healthcare using a European Health Insurance Card (EHIC), which entitles you to state provided medical treatment during your visit.
If you are from outside Europe, you should ensure that your health or travel insurance covers you for accidents or emergencies abroad.
Electricity
The standard voltage in Belgium is 220V. The plug/socket system is a two pin round pronged plug used across much of Europe.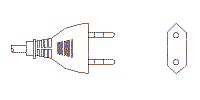 Phone calls and internet
International dialling and WiFi/internet are widely available in Brussels. Local SIM cards can be purchased at convenience stores. Delegates wishing to use their mobile/cell phone should ensure that international roaming is enabled on their phone.
The International Dialling Code for Belgium is +(32).
Currency
The Euro (€) is the unit of currency used in Belgium. $1 US Dollar is approximately €0.82. Most foreign currencies and traveller's cheques can be changed at banks and currency exchanges.
All major credit cards are widely accepted in Brussels and can be used to make cash withdrawals at banks and ATM machines. ATMs can be found at the airport and in the city (mainly in banks) and provide 24-hour cash withdrawal.
Taxes
Value Added Tax (VAT) applies to most sales of goods and services in Belgium and is usually included in the prices displayed. The standard rate of VAT is 21%. Reduced rates of 6% and 12% apply to certain categories of goods and services such as books, food and drink.
Click here for more information on VAT rates and refunds.
Tipping
Tipping is not common in Belgium. A service charge is sometimes but not always included in restaurant, taxi and hairdresser bills.
You may consider leaving a few Euro or rounding up your bill, otherwise 10% is considered a good tip if you receive exceptional service. In more touristy places, you may find that you are 'expected' to tip more. You are under no obligation to do so.
Things to do
Brussels offers a wide range of tourist attractions and engaging activities: art, architecture, fashion, history and the great outdoors- there are a number of pursuits to enjoy.
In addition to concerts, opera, orchestras and cinema, the capital of Europe also has a wide and eclectic collection of museums. There are approximately 89 museums endorsed by the tourism information bureau. From large, spacious and information-rich museums such as the Museum of Natural Sciences and the Museum of Fine Arts, to small, quaint interest-based museums such as the Belgian Beer Brewers museum or the Museum of Cocoa and Chocolate.
Outside of the capital, prestigious art cities such as Antwerp, Bergen, Bruges, Ghent and Liege, are worth a visit for their history and architecture. For those who enjoy walking, sports and the outdoors, head to the Ardennes, the green heart of Belgium. The Belgian coast is recommended for those who prefer the beach or enjoy cycling.
You can find more detailed information on the Visit Brussels website.
Eating and drinking
Brussels boasts numerous cafés in which to enjoy a world-renowned Belgian beer and shops from Belgium's artisan chocolatiers are to be found everywhere. Meanwhile, the city's cultural diversity is reflected in the range of international cuisines found in Brussels, from African to Vietnamese and everything in between; international delegates will always find something to their taste.
For more information about restaurants and eating out go to the Visit Brussels website.